Let them think twice before they use their powers
To blot out and drink up and sweep away
These flowery waters and these watery flowers
From snow that melted only yesterday.
---Robert Frost, "Spring Pools"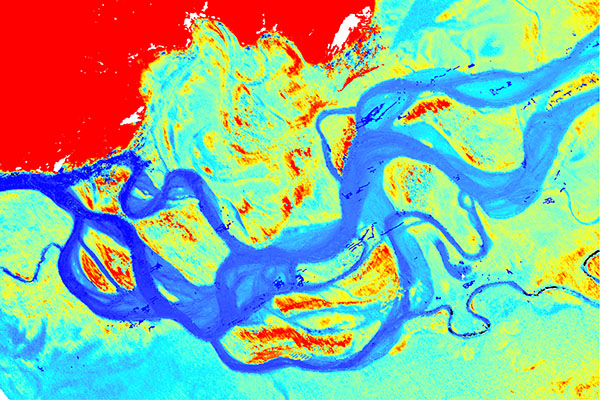 What is global hydrology?
Fresh water in rivers, lakes, wetlands, and mountain snowpacks is a tremendous resource for natural and human systems and, at the same time, represents one of the greatest hazards. Understanding the storage and transport of fresh water through these natural reservoirs and flow paths will help us better address societal challenges in a changing environment. In UNC's Global Hydrology Lab, we study hydrologic processes at scales from the entire globe to a single large wetland. Our interests are wide-ranging, but we focus on surface water hydrology, satellite remote sensing, hydroclimatology, and climate change. We have particular interests in the hydrology of Arctic and Subarctic regions and in developing new ways to track surface water hydrology from space."
WHAT'S THE NEWS?
Check out a new EGU Cryosphere guest blog post by Wayana on GHL work regarding global river ice patterns here .
DELTA-X, a NASA Earth Ventures suborbital project focused on understanding river delta processes, includes the GHL as a collaborator. Check out the announcement here for details.
Paper by UNC GHL alum George Allen and Tamlin in Science shows that total surface area of rivers and streams worldwide are much greater than previously thought, with implications for the carbon cycle. Media coverage from Gizmodo and Yahoo.
PhD student Elizabeth Altenau successfully defended her dissertation. Congratulations Dr. Altenau! She's sticking around the GHL to work on SWOT projects as a postdoc.
Join LOCSS, our NASA-funded citizen science project focused on understanding lakes by combining citizen science measurements and satellite data. More information here!
Paper by former UNC GHL undergraduate Melissa Wrzesien (and Tamlin) published in GRL, showing that climatological snowpack is much greater in North America's mountains than previous estimates suggest.
Paper by UNC GHL alum George Allen, Tamlin, and others published in Nature Communications. Major result is that small stream networks have very similar distributions of width across a wide range of discharges and physiographic characteristics.
Global Hydrology Lab research on Arctic lake and permafrost hydrology featured in AGU's EOS magazine .
Research from Tamlin and Michigan State collaborator Jay Zarnetske, a GRL cover story on declining river icings in Arctic Alaska, featured in Nature Climate Change, Scientific American, PBS NewsHour, Vox, and elsewhere.